For the last week or two, we have been announcing that, subject to Covid-19 restrictions being lifted after the current lockdown, Father Christmas would be visiting Folkestone during four evenings from Wednesday 9th December. Unfortunately, not only were restrictions not lifted, but with great disappointment we have learned that from 3rd December our town will be subject to Tier 3 COVID restrictions.
With cases in the area rising fast, and hospital capacity in Kent under pressure, we are unable responsibly to go ahead with these visits. We have agreed with Santa that it would be grossly irresponsible to do anything that might make matters worse. We don't want to encourage people to gather or in any way to contravene the regulations. They are, after all, designed for our individual and collective safety.
We know that many of you were looking forward eagerly to these visits, and we have been working hard for the last few weeks to make them happen. We - and Santa - are very sad that they can't.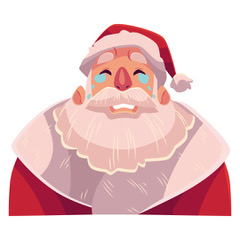 We know that many of you will be disappointed not seeing Santa and his sleigh go past your house, but we have been able to make alternative arrangements with Santa that will allow some lucky children to have an Internet conversation with him directly in his Grotto. To book a slot click on the button below.
Book to see Santa in his Grotto
Life will be very different for all of us this year, but the members of the Rotary Club of Folkestone wish all of you a very Happy Christmas.
If you would like to make a donation to our Christmas appeal, please click on the button below:
We will keep this page updated as often as we can, so please check back regularly.
Last updated: 04st December 2020